2D seems to be a bit of a buzzword this week. Obviously, the renaissance of 2D is not a new phenomenon, but two stories in particular have caught my attention and I think are worthy of some discussion. Nintendo's 2DS, with its bold box art statement of "plays all games in 2D!" forming the basis for this post's title, and Unity's intriguing new dedicated 2D tools on the horizon.
Nintendo's 2DS
This was certainly somewhat out of the blue, at least for me. Nintendo have hardly had an easy ride in the last year, and at times appear to have lost the plot a little bit, and at first glance I thought this new piece of hardware was further evidence of marbles being lost. However, looking through the appropriate lens, it does start to make quite smart business sense.
Nintendo's ethos relies rather heavily on winning over parents. This is something that, really, fell over early on with the 3DS as media rushed to focus on the negative aspects of the 3D feature for what was likely a minority of players. A loud minority, but a minority nevertheless. This negative image of a console that might burn poor little Johnny's eyes out did not go down too well with parents, understandably, and potentially shut off a large market segment for Nintendo. This, coupled with the company's unique ability to create truly appalling advertising campaigns that failed to differentiate the 3DS from the rest of the DS family in a meaningful way led to a lack of interest in those looking to upgrade from a DS, DSLite or DSi.
The 2DS cleverly solves at least one of these issues, and opens up a potential new market sector at the same time. For those wanting to upgrade for the sole purpose of playing 3DS software, but that aren't interested in the 3D feature, this fits the bill nicely. For parents looking to avoid the worries of 3D, this fits them too. Importantly, for parents looking to buy their child their first handheld, the price point of the 2DS is attractive indeed. This opens up the potential for consumers that may not have invested in a handheld device to seriously consider the 2DS. Additionally, the 'slate' form factor does away with the more fragile clam shell design making it much more resilient to trips in backpacks, drops onto hard playgrounds, and the occasional temper tantrum. This is perfectly targeted at the younger gamer.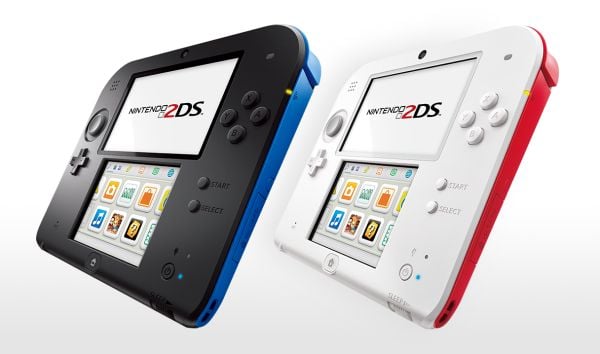 Yes it looks like a Fisher-Price toy - but considering the likely market for this, that's not a bad thing. It looks solid and potentially more comfortable than a standard 3DS, which I find personally gives me hand cramps after prolonged gaming sessions.
As is often the case, this new announcement has received the usual round of criticism that seems to accompany just about every hardware announcement in the industry at present. However, as a number of commentators have said of the 2DS, much of the critical feedback is coming from those that are not the intended target for the console. As an entry level handheld for young gamers, with a compatible game library of over 2000 games, this is exceedingly good value. Yes, for the older gamer, the price point places the 2DS close to older models such as the DSLite, but that's fine. The 2DS fills a gap, and with its release alongside Pokémon X and Y, I would expect this to sell a fair few units as we approach Christmas.
Upcoming Dedicated 2D Tools for Unity
I do like Unity3D, its a nice bit of kit and I've used it for a number of different projects both during my time at University and in a number of different Game Jams. However, I have always felt it was missing a trick with the lack of dedicated 2D support. Sure, 2D was entirely possible by using quads with sprites drawn on them, but the set up of the software always felt like it was fighting against you if you wanted to do this. Given the huge resurgence of 2D, this seemed like a real oversight.
Now, along with an announcement of advertising and publishing services (Unity Cloud, and the Unity Games arm respectively), the engine is finally getting full dedicated 2D support. Gone are the days of hacking together your own 2D systems, and installing a plethora of third-party plugins for 2D features. A few of the features coming to the engine include:
Dedicated 2D renderer with parallax scrolling support.
A 'drag and drop' importer for sprites.
Built in sprite animation editor.
Built in ability to map multiple sprites into single images to help performance.
Oh, and to top it off, it will have fully integrated Box2D physics.
I'll reserve judgement until the initial beta release of these tools. After all, you can build in as many tools as you want, if they're poorly implemented nobody is going to want to use them. One poor feature could make the entire package taste a little sour (the thoroughly atrocious map editor in Game Maker Studio comes to mind here). However, Unity don't exactly have a history of poor design, so unless they do something quite daft, this could be really, really great news for budding indies looking for a 2D engine with some clout behind it.